In a Shopify store, different pages target different kinds of words. Product pages focus on keywords for buying stuff, while blog posts aim for words people use to find information. Just relying on transactional keywords isn't the best strategy for store owners. To do well, you need to use them for information, too. That's why we're going to talk about Shopify blog SEO in more detail.
You will get to know the importance, all the strategies and tools you need to optimize blog posts in this post. So, without further delay, let's get started!
What is Shopify Blog SEO?
The blog content of Shopify stores is optimized for search engines through "Shopify blog SEO." One can improve the visibility and ranking of their store's blog posts on SERPs by implementing SEO strategies and techniques.
Importance of blogging for Shopify Store from SEO point of view
Ecommerce stores like Shopify can add a feather to their cap by blogging just like other ordinary websites. Even SEO-wise, quality blogging is helpful in improving the performance of the store. Let's see the importance of blogging for the Shopify store from an SEO point of view:
Enhanced Branding: People prefer reading blogs when they have doubts or want to know more about the product. When a website fixes their doubt or gives them a solution through blogging, they prefer that for shopping. This way, a store can enhance its branding by publishing blogs, which is counted as a great benefit of SEO.
Better Credibility: SEO techniques are implemented to take a store to top search results, as potential customers believe in the site only then. When a Shopify store publishes quality blogs, they get a mention in SERPs. This increases its credibility among customers, and people start purchasing from that store.
Organic Visibility: When an online store publishes content on its Shopify store periodically, it gives a positive signal to both search engines and users. The store gains organic visibility, provided the content is relevant, meaningful, and informational from the customer's perspective.
More Traffic and Sales: Social media platforms like LinkedIn, Twitter, and Instagram are great content promotion sources. When a store shares blog posts there, they gain visibility and attract traffic. One can target long-tail keywords and use blogging to drive sales.
In short, blogging for a Shopify store can make you win in the online world as it plays a great role from an SEO point of view. Start incorporating internal linking in your blogs to take all these mentioned benefits. As per a study, articles with images get 94% more views as opposed to those with no visuals. 
So, adding visuals to the blogs and making them interesting and engaging would be a great idea.  Last but not least, start describing the features and functionalities of products through it. Customers will prefer you if you write "How to guide" blogs and solve their queries.
How does it impact overall store success?
One impact you already know now- SEO-wise benefits. Old customers can be retained, new customers can be attracted, and customers' general queries can be resolved. Every store works with an aim to grow with each passing day, and blogging gives a store that opportunity. In short, blogging impacts the store's overall success.
Should You Have a Blog on Your Shopify Store?
The answer is, without any doubt, yes! Generally, ecommerce stores focus on their site structure and the quality of their products, which is essential, but many stores in the market provide the same facilities. Then, why does a customer prefer you over others?
The only difference you can make is to start interacting with them through your blogs. That is where they will feel connected with your store. Quality content can do what you haven't even conceived of.
But, you can promote the content through WordPress, so why only Shopify? Because a platform like WordPress is not specifically built for showcasing Shopify products. That is the reason, blog directly on the Shopify platform.
A Shopify store can use blogs to highlight and discuss their products. One can share product updates or show customer testimonials to increase credibility among their audience.
Blogging can increase visitors' time spent on a site and reduce bounce rate, provided the content is relevant and engaging.
Content creation yields great benefits for local businesses. Blogging done for location-specific topics can make a store appear in the top local search results.
Other than these reasons, traffic generation and SEO improvement are the main goals that every store aspires to. Go for blogging, if you want to achieve them, too.
Why Should Your Shopify Blog Be Optimized?
Blogging has great significance, but is it necessary to optimize it first? Yes. Unoptimized content containing blogs is just like studying for a big test without a proper plan. You are just randomly flipping through notes instead of focusing on what's important. This approach will not get you good results, similarly, unoptimized blogs are unclear and less interesting for readers.
However, SEO-optimized blog posts can take you closer to your goals. The following are the benefits:
Authority in your niche: When a store consistently publishes blog posts or articles and provides relevant information, it attracts visitors and establishes itself as an authority in its niche.
Topical relevance: One can practice blogging and enhance topical relevance for their store. Share valuable and current content in the niche and establish themselves as an authority in a particular subject area.
Increase traffic to your store: When there is optimized content, people will be interested in your blog posts as you have the exact info they want. Apart from fixing issues from blogging for old customers, you can also attract new customers to the store. So, there is a scope for long-term traffic for your store through blogging.
Improve Brand Recognition: When a store does quality blogging, it showcases its expertise and values, which helps audiences connect with them and remember the brand over time.
You can get all these benefits if you provide optimized content for your users. Now, it's time to make you aware of the procedure for correctly and strategically optimizing the blogs of your Shopify store in the above-mentioned segment.
How to Optimize Your Shopify Blog for SEO?
Shopify stores focus on selling products, but one thing they forget is to create content that people are looking for, which miss out on a big chance to boost their visibility on Google. But, we will share how to spot and fix this issue through SEO-optimized blog posts and make your store more visible online.
Conduct Keyword Research
The words or phrases that focus on providing information are blog keywords. These help in resolving customer's queries or offer insights. These will not directly indicate purchasing intent but satisfy someone's curiosity about a topic.
Blog keywords are different from the ones used on E-commerce websites, as those are the phrases used by customers who are looking to make a purchase. Use keyword research tools like Google Keyword Planner, SEMrush, or Ahrefs to get search intent keywords. You can identify phrases based on search volumes and analyze competition with these tools.
For instance, A Shopify store specializing in home improvement tools or materials can create blog content showcasing DIY projects to capture the interest of users who are passionate about home improvement.
Also, keep one thing in mind-use long tail keywords in your blogs. These are more specific and can be used in blogs. These will help you capture niche-specific topics and attract the targeted audience interested in detailed information. Also, long-tail keywords are less competitive than short-tail keywords, and it is easier for your blog to rank in search engine results.
You can also use the "People also ask" and "related searches" section of Google for blogging.
Blog Content Optimization
Now that you know which keywords you need to infuse into your content. But, to make your blog excel, you need quality content that visitors would love to read. So, here is our second step for blog content optimization.

Use Headings and Subheadings: Nobody likes reading one long paragraph blog. So, break down big chunks of data with headings and subheadings to make it more readable for users and search engines.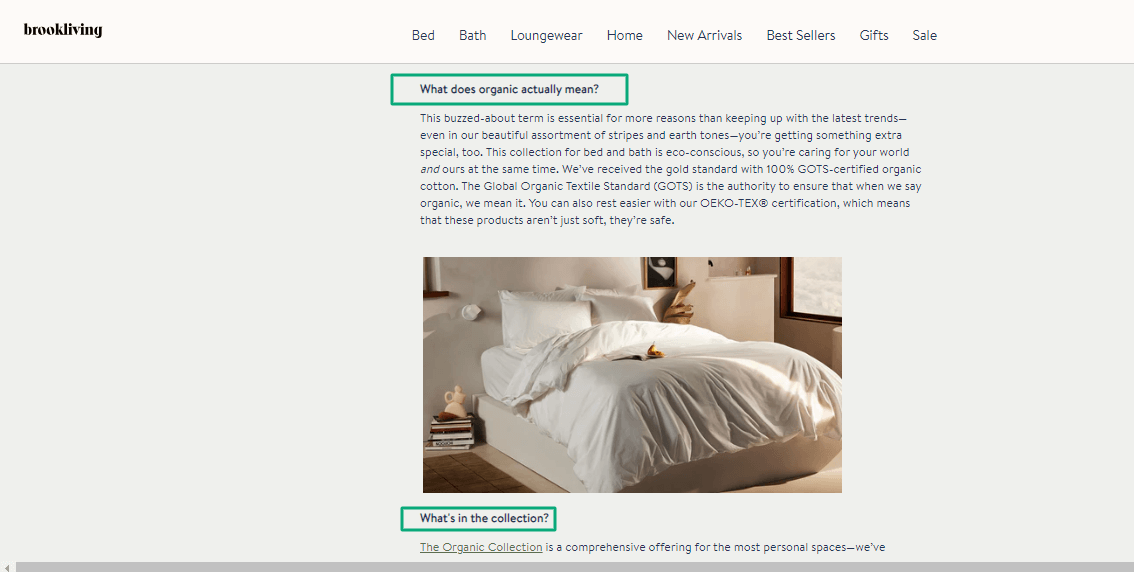 Include visual elements: To make a blog post engaging for audiences, use proper Shopify image sizes and give an alt text for images present.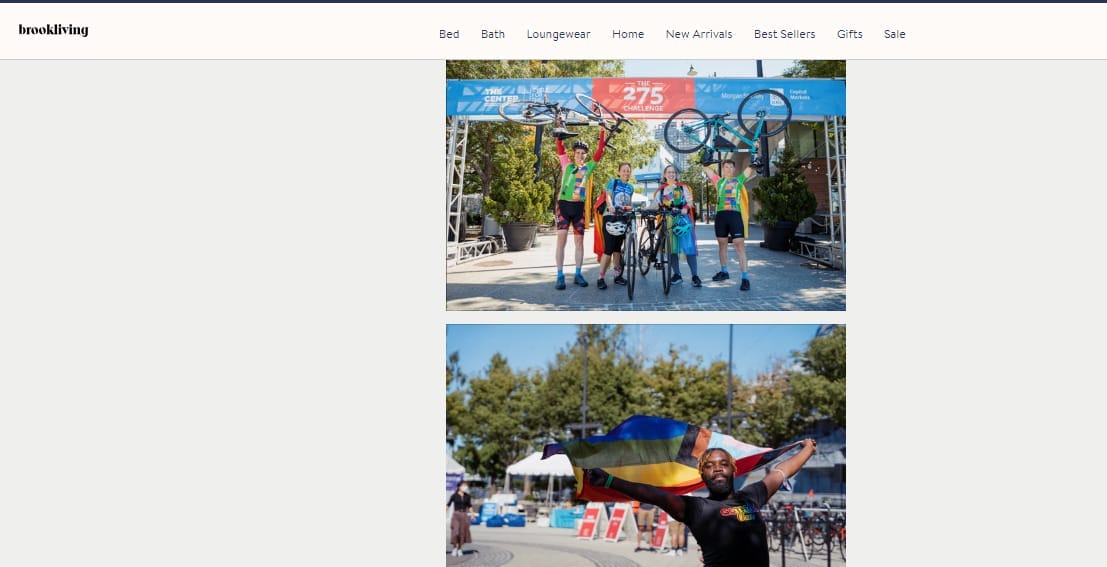 So, these are the few ideas through which one can enhance the quality of their blog post. If you follow these, your blogs will help increase your Shopify store's conversion rate.
After covering this, let's move to our next step, i.e. on-page optimization for a blog post.
On-page Optimization for a Shopify Blog Post
When implementing on-page strategies for blog posts of a Shopify store, it is necessary to pay attention to each of its parts, just like other store's pages. So, let's begin!
Internal Linking: Search engine understands the structure of stores better when internal linking is implemented. In your blog posts, you can naturally create internal links within the content. Simply, link a blog post to another one or even to product pages.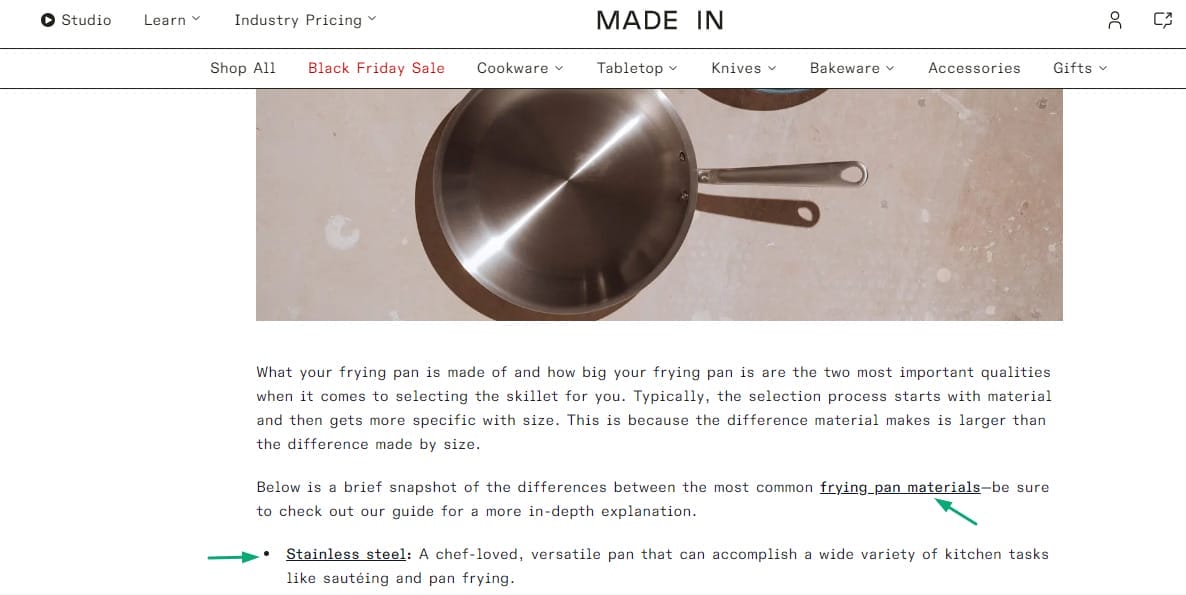 Focus on creating articles that answer a question and link well to other helpful stuff on the website. Google always favors such sites that prefer practicing internal linking.
2.  External Linking: It's external linking when a Shopify store places links on their site that direct visitors to some other website. The strategy provides additional value to the audience and improves the store's overall online presence.
Here are some tips and strategies to approach better external linking for a Shopify store:
Link to only authoritative external links. This increases the credibility of a store.
Add the target keyword to the URL structure of the blog. Also, keep it short as much as possible.
Ensure your blog post page is responsive for various devices, as customers prefer mobiles for shopping as well as resolving their queries.
This is all about on-page optimization for a Shopify blog post page. Now that on-page optimization for blog posts is complete, it's time to focus on optimizing technical SEO.
Technical Shopify Blog SEO
After creating an impressive blog by implementing on-page SEO strategies, what would be the user's reaction if the page does not load on time? They will leave the page definitely.
But, we have some best technical SEO strategies to avoid the situation. These will enhance the speed and overall performance of the store.
Speed: 40% of shoppers won't wait more than 3 seconds before abandoning an ecommerce site. A website's speed is actually the deciding factor. So, better to use a reliable Shopify image optimization tool like TinyIMG to compress and optimize images without compromising quality. The tool mentioned is reliable, also choose a good hosting provider to load blogs. Enabling browser caching for blog posts will help in faster loading.
XML Sitemap: Generate an XML sitemap for your blog and submit it to Google. This helps search engines understand the structure of the site and index its content more efficiently.
Canonical URLs: In case, you have similar content on different pages, use canonical URLs. These tags inform search engines of the preferred version of any page.
So, this is all about technical SEO strategies that can help better render a Shopify store's blog post page. Now, all strategies have been discussed, but is your work done?
Well, not now, as in the above segment, we are going to discuss why and how monitoring the performance of blog posts is done.
Monitoring Shopify Blog Performance and Analytics
Just like traditional businesses, monitoring and analytics are crucial for blogs. This provides insights into how well a blog is performing, its popularity among which customers, and understanding who are your real customers.
Monitoring Shopify blogs will help in the following:
Performance evaluation
Audience understanding
Content optimization
SEO enhancement
Goal tracking
User-Experience improvement
Thus, it can be inferred that the implementation of optimization strategies is incomplete without monitoring the Shopify blog's performance and analytics.
Following are the tools that will help you:
Google Analytics: It's helpful to get an analysis of blog performance, traffic, user behavior
Search Console: You can monitor the indexing status and identify any potential issues related to blog posts through its help.
Ahrefs: Check keyword ranking included in the blog posts of your Shopify store.
With this, we are completed with basic strategies of Shopify SEO optimization. But, if you want to stand out, you need to follow some additional tips to optimize your Shopify blog for SEO, as mentioned above.
Additional Tips for Optimizing Your Shopify Blog for SEO
While in the above segments, we have covered fundamental techniques. But to continually raise the bar and stay ahead of the curve in SEO blogging, you need to follow some advanced techniques. So, here are some additional tips that will help you to achieve that:
Avoid Duplicate Content: Try not to use redundant content in your blogs. This will confuse Google, as well as readers. Search engines cannot choose the page to be ranked, and readers will bounce back when they see the same information.
Promote your blog posts: Rely on other content promotion channels like Email newsletters. The success rate of conversion of emails for Shopify stores is the highest.
Use images and videos: Sometimes visuals can do what words cannot. Despite having all the required information, the content piece is not able to engage audiences. But, when images and videos, people think to read the blog at least once.
Use social media share buttons: When a user finds your store's content piece useful, they share it with their friends. This enhances visibility, but to make it accessible to potential readers or customers, you need to use social media share buttons in the blog post.
Optimize for Featured Snippets: The concise summaries that appear at the top of Google search results are featured snippets. Optimize your store's blog posts for featured snippets and get more visibility.
Leave option for Comments: Interacting with your customers is a great way to know what's revolving in their head. Leave an option for comments and get to know what things are obstructing your sales.
Pro TIP – Add your products within your blog where it makes sense. This is one way to get more sales on Shopify.
Conclusion
All in all, we tried our best to let you understand the tactics for Shopify blog SEO. After reading this post, you get an additional opportunity for organic visibility for your Shopify store. But, remember, SEO is a continuous process. You need to be consistent and stay updated with trends to maintain your position in SERPs. 
Follow all these above-mentioned tips and tricks, or hire Visibility Gurus for cost-effective and expert Shopify SEO Services. We have the expertise, experience, and passion to deliver services that can bring a big change to your Shopify store!
FAQs
How good is Shopify for blogging?
Ans. Shopify stores that are focussing on selling products can take advantage of Shopify's blogging features. It would be sufficient, but if you are writing particularly, and e-commerce is your secondary focus, it would be better to use WordPress with WooCommerce.
Is Shopify blog SEO friendly?
Ans. Yes, Shopify is recognized for being SEO-friendly. Its coding and structured design contribute to strong SEO performance. You can optimize the SEO of your blog posts on Shopify, similar to other pages on the platform.
How do I improve my Shopify blog SEO?
Ans. To improve the SEO of your Shopify blog, you can optimize its site structure, use featured snippets, and add long-tail keywords. Other than these, follow the above-mentioned additional tips and get all the benefits of SEO for your blog posts.
What is the difference between a blog post and a page on Shopify?
Ans. Well, the creation of a regular page and a blog post is similar inside Shopify. However, there is one difference, i.e., an additional description window to add the post summary on the blog page.